CONTROL OF YAM ROT WITH PLANT EXTRACT OF Curcuma longa, Syzygium aromaticum AND Cinnamomum verum
Omaka Onyekachi

Maeve academic Reasearch Laboratory Awka Anambra State Nigeria

Okafor Chiwetalu Chimemelie

Maeve academic Research , Laboratory Awka Anambra State Nigeria

Ifediba Faith Amarachi

Maeve academic Research , Laboratory Awka Anambra State Nigeria

. Nwankwegu Agatha Chioma

Maeve academic Research, Laboratory Awka Anambra State Nigeria
Keywords:
Yam, Rot, plant, Extract, Curcuma longa, Syzygium aromaticum, Cinnamomum verum
Abstract
ABSTRACT
The storage rot of yam (Dioscorea Spp) start from the field to the storage barn. Fungi pathogens affecting yam tubers are controlled using pesticides or plant extract. Diseases and healthy yam specie of Dioscorea rotundata were collected from different market (Eke Awka and Nkwo Amaenyi). The plant samples used were Curcuma longa  (Turmeric), Syzygium aromaticum(Clove) and Cinnamomum verum (Cinnamon) and were dried under room temperature for three days then extracted using Soxhlet extractor before analysis. The antimicrobial activities of the plant extracts on fungi associated with rotting yams were obtained. Fungi isolation was done from the samples using standard procedures. The isolated fungi were identified as Aspergillus flavus,Aspergillus niger,Fusarium oxysporum, Fusarium solani etc. The treatment were given to the organism at 4mg/ml each of the three extract. From the analysis, result showed that all the extract have significant effect on the growth of the organism. The inhibition of the growth of these fungi was due to the fact that the plant contain active phytochemical component. This study shows that the extract can as well be used for the control  of human fungi pathogen. It was also recommended that people should ensure they consume enough turmeric, clove and cinnamon in other to help prevent and fight against diseases and pharmaceutical industries should ensure to use these plant extract in the production of antifungal drugs.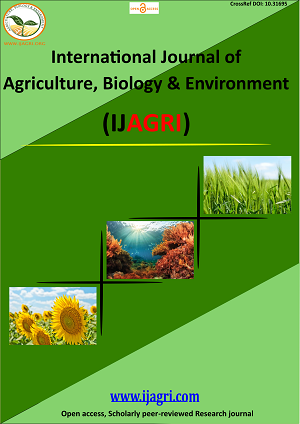 How to Cite
Omaka Onyekachi, Okafor Chiwetalu Chimemelie, Ifediba Faith Amarachi, & . Nwankwegu Agatha Chioma. (2020). CONTROL OF YAM ROT WITH PLANT EXTRACT OF Curcuma longa, Syzygium aromaticum AND Cinnamomum verum. International Journal of Agriculture, Biology & Environment ( E-ISSN 2582-6107 ), 1(1), 11-23. Retrieved from https://ijagri.org/index.php/ijagri/article/view/8
Copyright (c) 2020 International Journal of Agriculture, Biology & Environment
This work is licensed under a Creative Commons Attribution-NonCommercial 4.0 International License.