HALOPHYTIC POTENTIALS OF MORNING GLORY (Ipomea Asarifolia) FOR PHYTO-DESALINATION OF BRACKISH WATER
Kiridi, E. A

Department of Agricultural and Environmental Engineering, Niger Delta University, Bayelsa State Nigeria

Zalmon, G. P

Department of Agricultural and Environmental Engineering, Niger Delta University, Bayelsa State Nigeria
Keywords:
Phytodesalination, Morning Glory, Salinity, Brackish Water
Abstract
This research investigates the halophytic potentials of morning glory (Ipomea Asarifolia) for phytodesalination of brackish water. Approximately 100 g of morning glory were placed in a plastic trough containing 10 litres of brackish water (salinity 7.69 ppt) in three replicates and studied daily for 6 days. The treatment means of the electrical conductivity (EC), pH, total dissolved solids (TDS) and salinity were calculated. Results showed that maximum reductions of most of the water parameter were observed after 3 days of the research and a phytodesalination rates of +0.026 ppt/g/day for EC, +10.27 ppt/g/day for TDS and +0.051 ppt/g/day for salinity were recorded. The morning glory started showing signs of nutrient starvation and desalination rate after 3 days declined. ANOVA shows that there was no significant difference between the control and morning glory treatment means at a 95 percent confidence level for pH, EC, TDS and salinity. This research can be optimised by continuously removing spent morning glory and re-introducing fresh ones in 3 days intervals until desalination is complete. An optimised phytodesalination method using morning glory can be useful in developing a cost-effective management technique for reducing salt loading in freshwater streams.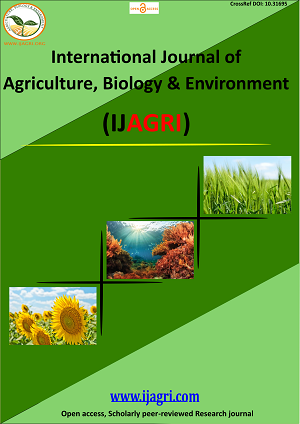 How to Cite
Kiridi, E. A, & Zalmon, G. P. (2020). HALOPHYTIC POTENTIALS OF MORNING GLORY (Ipomea Asarifolia) FOR PHYTO-DESALINATION OF BRACKISH WATER. International Journal of Agriculture, Biology & Environment ( E-ISSN 2582-6107 ), 1(1), 24-29. Retrieved from https://ijagri.org/index.php/ijagri/article/view/12
This work is licensed under a Creative Commons Attribution-NonCommercial 4.0 International License.