Study of the Production of "Dadawa" from Seeds of Amblygonocarpus andongensis in Adamawa, Cameroon
BOURSI Jérémie

Institute of Agriculture Research and Development (IRAD), Cameroon

ABEGA Juste Philantrope

Institute of Agriculture Research and Development (IRAD), Cameroon

HOUJAYFA MOHAMAD OUSMAN

Institute of Agriculture Research and Development (IRAD), Cameroon

DAZECK DOUMBA Fanny Rosette

Institute of Agriculture Research and Development (IRAD), Cameroon

AMINATOU Hamida

Institute of Agriculture Research and Development (IRAD), Cameroon

ADJOUDJI OUSMAN

Institute of Agriculture Research and Development (IRAD), Cameroon
Keywords:
Amblygonocarpus andongensis, Dadawa, Production system, Nyambaka.
Abstract
The present study aims to analyze the production system of "Dadawa" based on the seeds of Amblygonocarpus andongensis. Surveys were carried out among processors in the Nyambaka district in the Adamawa region from November 2020 to December 2020. The traditional "Dadawa" manufacturing process consumes more effort and time. It does not vary by ethnicity, age, and level of education. It includes several operations: The first phase being doble cooking which lasts for about 12 hours and the second whose duration is about 30 minutes aerobic fermentation takes place for 72hours, the leaves of Annona senegalensis are used during this operation, the fermented product is dried in the sun. The product obtained is similar to that obtained from the seeds of Parkia biglobosa but it is more appreciated by the population because of its more pronounced taste.
References
Ahouansou, R. H. (2012). Contribution à la mise au point et à l'optimisation des équipements de transformation agroalimentaire au Bénin : Cas de la décortiqueuse de néré et de la presse d'afitin. Thèse de Doctorat Unique de l'Université d'Abomey-Calavi, pp 1-285.
Alaoui, A., Laaribya, S., Gmira, N., & Benchekroun, F. (2012). Le rôle de la femme dans le développement local et la préservation des ressources forestières : Cas de la commune de Sehoul au Maroc. Revue de la forêt méditerranéenne, 33(4), 369-378
Azokpota, P., Hounhouigan, D.J., & Nago, M.C. (2006). Microbiological and chemical changes during the fermentation of African locust bean (Parkia biglobosa) to produce afitin, iru, and sonru, three traditional condiments produced in Benin. Int. J. Food Microbiol., 107, 304-309.
Keay, R., Onochie, C., & Stanfield D. (1964). Nigerian trees. Nigerian National Press Ltd. Apapa, Lagos. 2, 78-106.
Koura, K., Ibilola P., Ouidoh, G., Azokpota, P., Ganglo J.C., & Hounhouigan, D. J. (2014). Caractérisation physique et composition chimique des graines de Parkia biglobosa (Jacq) en usage au Nord Benin. Journal. Appl.Biosci.75, 6239-6249
Lamy, G. M., Ibrahima, A., Ndjonka, D., & Mapongmetsem P. M. (2018). Etude ethnobotanique des sous-variétés de Syzygium guineense (Will.) var. macrocarpum (Engl.) F. White dans les Hautes Savanes Guinéennes (Adamaoua, Cameroun). Int. J.Biol.Chem.Sci., 12(4), 1636-1649.
Letouzey Réne (1968). Etudes phytogeographiques du Cameroun. Encyclopédie Biologique. Edition Le chevalier. pp 1-511.
Mapongmetsem, P. M. & Laissou, M. (2010). Contribution à la domestication des fruitiers locaux : influence des substances de croissance sur l'enracinement des marcottes. Com. International Symposium, Indigenous fruit trees for dryland Africa: domestication for use in a changing environment. Allada, Benin. pp 1-12.
Mapongmetsem, P. M., Djeumene, P., Sonna, D., & Ndoum J. F. (2008). Utilisation et commercialisation des produits forestiers non ligneux dans les savanes soudano- guinéennes du Cameroun. Com. Sympo. ANAFE, Malawi.14p.
Mapongmetsem, P. M., Kapehie, V., & Tefempa, B. H. (2012). Diversity of local fruit tree and their contribution in sustaining the rural live lihood in the northem Cameroon. Ethiopian Journal of Environments al Studies and Management, 5(1):32-46.
Moupela, C., Vermeulen, C., Daïnou, K., & Doucet, J. L. (2011). Le noisetier d'Afrique (Coula edulis Baill.). Un produit forestier non ligneux méconnu, 15(3), 485-495.
N'zebo, J. M., Dje, K. M., & Ahi, A. P. (2018). État des connaissances et usages traditionnels des fruits de Tetrapleura tetraptera ((Schumach. & Thonn.) Taub., 1891), plante spontanée aromatique alimentaire du sud-est de la Côte d'Ivoire. J. Anim & Plant Sci., 38(1), 6190-6205.
Ndir, B., Lognay, G., Wathelet, B., Cornelius, C., Marlier, M., & Thonart, P. (2000). Composition chimique du nététu, condiment alimentaire produit par fermentation des graines du caroubier africain Parkia biglobosa (Jacq.) Benth. Biotechnol. Agron. Soc. Environ., 4 (2), 101-105
Nwinyi, F. C., Ajoku, G. A., Aniagu, S. O., Kubmarawa, D., Enwerem, N., Dzarma, S., & Inyang, U. S. (2006). Pharmacological justification for the ethnomedicinal use of Amblygonocarpus andongensis stem bark in pain relief. Afr. J. Biotechnol., 5(17), 1566-1571.
Ugwah, O. M., Ugwah-Oguejiofor, C. J., Abubakar, K., Okorie N. A., & Njan A. A. (2014). Anti-diarrhoeal activities of aqueous stem bark extract of Amblygonocarpus andongensis (Welw.Ex Oliv.) Exell & Torre. Niger. J. Pharma. Sci., 13(2), 01-11
Yonkeu Samuel (1983). Végétation des pâturages de l'Adamaoua (Cameroun) : écologie et potentialités pastorales. Thèse de Doctorat. Univ. Rennes I, France. pp 1-207.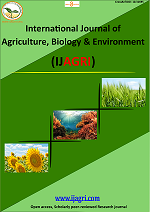 How to Cite
Jérémie, B., Juste Philantrope, A., MOHAMAD OUSMAN, H., Fanny Rosette, D. D., Hamida, A., & OUSMAN, A. (2021). Study of the Production of "Dadawa" from Seeds of Amblygonocarpus andongensis in Adamawa, Cameroon. International Journal of Agriculture, Biology & Environment ( E-ISSN 2582-6107 ), 2(3), 1-6. https://doi.org/10.47504/IJAGRI.2021.5146
Copyright (c) 2021 International Journal of Agriculture, Biology & Environment ( e-ISSN 2582-6107 )
This work is licensed under a Creative Commons Attribution-NonCommercial 4.0 International License.