Detection of Antibiotic Resistant organisms in Water Sources in Okada Town, Edo State, Nigeria
Jesumirhewe, C

Asamaka, E. O
Keywords:
Physicochemical analysis, Microorganisms,, Antibiotic resistance, Public health.
Abstract
Water is an indispensable resource for the existence of all living things, human beings especially. This study investigated the physicochemical properties of drinking water and water used for domestic purposes in Okada town to ascertain their suitability for consumption and also the possible detection of antibiotic resistant organisms in such water sources. A total of six water samples were obtained for the study. Standard methods were employed in the estimation of the physicochemical properties of the samples, isolation and characterization of bacterial isolates from the samples. Antimicrobial susceptibility tests were performed on the isolates using the Kirby-Bauer disc diffusion method. The physicochemical properties of all the samples fell within the normal range when compared to the WHO maximum permissible levels. The isolates obtained from three samples were Gram positive cocci and Gram negative bacilli bacteria and had a probable identity of Staphylococcus sp, Coagulase negative Staphylococcus sp, Klebsiella sp, Escherichia coli. The Bacterial isolates were resistant to various antibiotics such as the cephalosporins, gentamicin, cloxacillin, augmentin, nitrofurantoin, ampicillin and ciprofloxacin. The detection of antibiotic resistant organisms is of public health importance and may be possible reason for prolonged therapy of water borne diseases. Accurate diagnosis and appropriate administration of drugs will help in the control of antibiotic resistant bacteria. Proper treatment of water especially before consumption is recommended.
References
Afolabi , T.A., Ogbuneke, C.C., Ogunkunle, O.A., Bamiro, F.O (2012). Comparative Assessment of the portable quality of water from industrial urban and rural parts of Lagos, Nigeria. Ife Journal of Science 14(2) 2012
Agha, I. (2006). Water as a source of life. In: THISDAY. Online.com
Akpoveta, O. V., Okoh, B. E. and Osakwe, S. A. (2011). Quality assessment of Borehole water used in the vicinities of Benin, Edo state and Agbor, Delta state of Nigeria. Current research in Chemistry 3(1): 62-69.
Alfarra, H. (2010). Water Pollution in Nigeria: Problems and Sustainable Proposals.
Aliyu, A. and Amadu, L. (2017). Urbanization, Cities, and Health: The Challenges to Nigeria – A Review. Ann Afr Med.16(4): 149–158 doi: 10.4103/aam.aam_1_17.
Amangabara, G.T. and Ejenma, E. (2012). Groundwater Quality Assessment of Yenagoa and between 2010 and 2011. Resources and Environment 2(2): 20-29. doi: 10.5923/j.re.20120202.04
Aremu, M. O. Olaofe, O. Ikokoh, P. P & Yakubu, M. M. (2011) .Physicochemical characteristics of stream, well and borehole water soures in Eggon, Nasarawa State, Nigeria. Journal Chemical Society Nigeria, 36 (1), 131-136.
Bauer, A.W., Kirby, W.M.M., Sherirs, J.C. and Turck, M. (1966). Antibiotic susceptibility testing by standard single disk method. Am J Clin Pathol 45(4):433-96.
Brown, E.A. (2005). Benson's Microbiological applications laboratory manual in general microbiology, 9th ed. New York: McGraw-Hill Companies Inc. pp. 230-80.
Efuntoye, M. O and Apanpa, M.O. (2010). Status of contamination and antibiotic resistance ofbacteria from well water in Ago- Iwoye, Nigeria. Journal of Applied Biosciences 35: 2244 – 2250.
Ehi-Eromosele, C.O..and Okiei, W.O.(2012). Heavy Metal Assessement of Ground, Surface and Tap water samples in Lagos Metropolis using Anodic Stripping Voltametry. Resources and Environment 2 (3): 82-86.
Ezeribe, A. I., Oshieke, K. C. and Jauro, A. (2012). Physico-chemical properties of well water samples from some villages in Nigeria with cases of stained and mottle teeth. Science World Journal 7 ( 1)
Hoge, C. W., Gambel, J. M., Srijan, A., Pitarangsi, C. and Echeverria, P. 1998 Trends in antibiotic resistance among diarrheal pathogens isolated in Thailand over 15 years. Clin. Infect. Dis. 26, 341–345.
Kazaure, S. Z., Isa, H. A., Mohammed, Y. and Namadi, M.M. (2015). Comparative Analysis of Physicochemical Parameters and Heavy Metals of Public Water Supply in Kaduna Metropolis. IOSR Journal of Applied Chemistry (IOSR-JAC) 8 (11): 21-26.
Lawford, R. G., Landwehr, J. M., Sorooshian, S and Whitaker, M.P.L (2003) International Hydrologic Science Programs and Global Water Issues. Water: Science, Policy and Management. Water Resources Monograph 16. American Geophysical Union 10.1029/016WM14, W. J., and Moore, E. A (1976). Environmental Chemistry, Academics Press, Inc.London, pp. 360-368.
Mehta, S. and Fantry, L. 2005 Gastrointestinal infections in the immunocompromised host. Curr. Opin. Gastroenterol. 21(1), 39–43.
Millan, A. S. (2018). Evolution of Plasmid-Mediated Antibiotic Resistance in the Clinical Context. Trends in Microbiology 26 (12) :978-985. https://doi.org/10.1016/j.tim.2018.06.007.
NSDWQ., 2007. Nigeria standard for drinking water quality. Standard Organization of Nigeria Governing Council. ICS 13.060.20, Nigerian Standard for Water Quality.
Nwachukwu, E. and Emeruem C. M. (2007). Presence of Antibiotic Resistant Bacteria in Sachet water produced and sold in Eastern Nigeria. Research Journal of Microbiology 2(10):782-786.
Nwachukwu, E. and Otokunefor T. V. (2003). Susceptibility of Gram -negative Bacteria isolated from rural drinking water supply to antimicrobial agents. Nig. J. Exp. Applied Biol., 4: 7-10.
Nwidu, L.L., Oveh, B., Okoriye, T and Vaikosen, N.A (2008) Assessment of the water quality and prevalence of water borne diseases in , . African Journal of Biotechnology 7 (17), pp. 2993-2997
Okeke, I. and Lamikanra, A. 1995 Quality and bioavailability of tetracycline capsules in a Nigerian semi-urban community. Int. J. Antimicrob. Agents 5, 245–250.
Oki, A.O. and Akana, T.S. (2016). Quality Assessment of Groundwater in Yenagoa, Niger Delta, Nigeria. Geosciences 6: 1–12.
Okonkwo, M.J., Ottah, H. S. and Ukulu, H. S. (2008). Comparative study of physicochemical characteristics of boreholes and hand dug wells in Warri and Environs Delta state, Nigeria. Agbor J.Sci. Educ. 3: 280-286.
Okonkwo,I.O.,Ogunjobi,A.A.,Kolawale.,O.O.,Babatunde,S.,Oluwole,I.,Ogunnusi,T.A.,Adedoyi,O.D.andFajobi,E.A. (2006). Comparative Studies and Microbial Risk Assessement of water Samples used for processing Frozen Sea food in Ijora-Olopa,Lagos state. EJEAFChe 8(6): 408-415.
Olajubu, F. A. and Ogunika, F. (2014). Assesment of the physicochemical and microbiological properties of Borehole water samples from Akungba-Akoko, Ondo state, Nigeria. International Journal of Pharmaceutical Sciences and Research 5: 357-400.
Olofsson, S. 2006 Relation Between Drug Exposure and Selection of Antibiotic Resistant Bacteria. Dissertation presented at theFaculty of Medicine, Upsalla University for the degree of Doctor of Philosophy.
Olutiola, P. O., Famurewa, O. and Sontang, H. G. 1991 AnIntroduction to General Microbiology - A Practical Approach. CaHeidelberg verlagsanstaltund. Dreuckerei GMbh, Heidelberg, Germany, p 520.
Oluyege, J. O., Dada, A. C. and Odeyemi, A. T. (2009). Incidence of multiple antibiotic resistant Gram-negative bacteria isolated from surface and underground water sources in south western region of Nigeria. Water Science & Technology—WST | 59(10): 1929.
Onuh, J. and Isaac, V. (2009). Physicochemical and microbiological quality of water sources from some major towns in Igala land. Nigerian Food Journal. 27: 66 - 72. 10.4314/nifoj.v27i2.47474.
Phares , C. A., Danquah, A., Atiah, K., Agyei, F. K., Michael OT. (2020). Antibiotics utilization and farmers' knowledge of its effects on soil ecosystem in the coastal drylands of Ghana. PLOS ONE 15(2): e0228777. https://doi.org/10.1371/journal.pone.0228777
Rim-Rukeh, A., Ikhifa, O. G., Okokoyo, P. A., Awatefe, J. K. and Odjighere, M. O. (2008). Physicochemical characteristics of bore hole water in Warri Delta state Nigeria. Agbor J Sci. 3: 133-140.
Robert, J. W. (2006). Water Clinic Nitrate, Sulphates. Retrieved 5 June, 2009, from http://www.thewaterclinic.com/nitratesulphate.htm.
Singh, M.R and Gupta, A. (2016). Water pollution-sources, effects and control. Pointer Publishers Jaipur.
Taiwo, A.M., Gbadebo, A.M. and Awomeso, J.A. (2010). Potability assessment of selected brands of bottled water in Abeokuta. Nigeria. J. Applied Sci. Environ. Manage. 14: 47-52.
UNICEF 2013. Press release 22nd March. Children dying daily because of unsafe water supplies and poor sanitation and hygiene.
WHO, 1996. Guidelines for Drinking Water Quality. Vol. 2. World Health Organization. Geneva.
WHO., 2004. Guidelines for Drinking Water Quality: Recommendations. 3rd Edn., World Health Organization, Geneva, ISBN: 9789241546386, Pages: 334.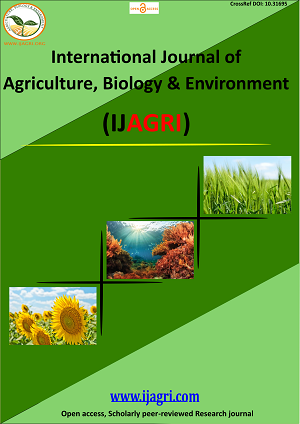 How to Cite
C, J., & Asamaka, E. O. (2020). Detection of Antibiotic Resistant organisms in Water Sources in Okada Town, Edo State, Nigeria. International Journal of Agriculture, Biology & Environment ( E-ISSN 2582-6107 ), 1(1), 40-47. Retrieved from https://ijagri.org/index.php/ijagri/article/view/16
Copyright (c) 2020 International Journal of Agriculture, Biology & Environment
This work is licensed under a Creative Commons Attribution-NonCommercial 4.0 International License.